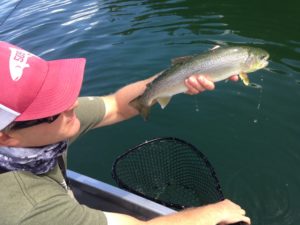 Fjord Fly Fishing is located in Poulsbo, Washington and owned by Chad Gillespie. Chad's credentials include being licensed as a Merchant Mariner with the United States Coast Guard and holds his Captains license.  He is an Emergency Medical Technician including CPR and First Aid trained, has excellent people skills and was a past professional Business Education Instructor at the high school level.
While developing a business name, Chad wanted a name that represented the beautiful area he lives in and also represents his community.  Fjord Fly Fishing was chosen since Hood Canal is truly a fjord, similar to many of the Norwegian fjords in Norway. Chad's home town of Poulsbo was founded by Norwegians and still carries on this Norwegian Heritage today.  Come visit Poulsbo and take a stroll down Fjord Drive, it's just up from main street and features many of the original houses built as the town was founded. Visit the City of Poulsbo for visitor information.
Chad Gillespie started pursuing Sea-Run Cutthroat as a youth with his dad on the Kitsap Peninsula. Fly fishing the beaches of Sinclair and Dyes Inlet on the Kitsap Peninsula proved worthy of many nice Sea-Run Cutthroat. Chad honed his skills spending many days in the early spring casting for aggressive cutthroat chasing freshly hatched baby chum salmon migrating out to sea.
As a job while in high school, Chad began tying flies for the Northwest Angler Fly Shop in Poulsbo where he specialized in tying saltwater Coho salmon and Sea-Run Cutthroat patterns.
After graduating high school, he attended Central Washington University located in Ellensburg, Washington.   It didn't take long before he owned his first drift boat and was guiding on the Yakima River for The Evening Hatch Guide Service.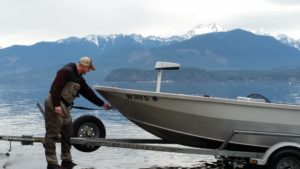 After graduating from CWU and getting his first job as a high school business teacher in Poulsbo, Chad continued guiding on the Yakima. Eventually, he gave up guiding the Yakima to pursue a much closer species – Sea-Run Cutthroat.
Chad has also been an outdoor writer for numerous publications including the Kitsap Sun newspaper based in Bremerton WA, Fishing and Hunting news, The Central Kitsap Herald, and The Bainbridge Island Review. He has written over 150 articles relating to outdoor adventures focused primarily on the Kitsap and Olympic Peninsula's fly fishing.
Poulsbo's local North Kitsap Herald has also hired Chad to produce outdoor articles, including articles for their annual Outdoor Guide/Visitor Guide, and he is a guest blogger for the Visit Poulsbo website.
Come experience a day fly fishing the beautiful waters of the Kitsap and Olympic Peninsula's with Chad!
To book a trip contact Chad at 509-591-2029 or email chad@fjordflyfishing.com.