Hood Canal and Puget Sound Guided Fly Fishing and Light Tackle Trips
Welcome to Hood Canal and Puget Sound guided fly fishing trips with Fjord Fly Fishing. We specialize in guided fly fishing and light tackle spin fishing trips on the waters of Hood Canal and Puget Sound. What separates Fjord Fly Fishing from other guide services? All our trips are motorized, boat style adventures that truly allow the anglers to experience a unique day on the water traveling from beach to beach and taking in miles of scenic shoreline on Hood Canal or Puget Sound. Check out our guide rates for more details.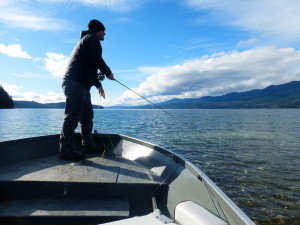 Your adventure will consist of fishing out of a 16 foot aluminum North River open style boat, the ideal boat and platform to pursue these game fish.   Your guide, Capt. Chad Gillespie, who owns Fjord Fly Fishing has been chasing these wily game fish with a fly rod for the past 25 years on the Kitsap Peninsula and has a deep knowledge of the area.
The location (boat launch) we depart from will depend on a few factors including, where the fish are located, weather and tides. Unlike, many fisheries, we have the ability to hit miles of shoreline and fish different beaches quickly out of our comfortable aluminum skiff. This truly makes your trip more enjoyable, and gives clients the opportunity to see wildlife and scenery that is unmatched, short of Alaska.
We may launch at a certain point and run by boat 5-7 miles prior to fishing. Most fishing is done by boat as you cast towards shore and retrieve your fly back towards the boat. However, on some trips we may pull into shore allowing you to move up and down the shoreline casting and retrieving.  This is a nice change for some anglers allowing freedom to move around and "get the blood flowing a little."
We will generally travel anywhere from 1-10 miles of shoreline in a given day. Your adventure will also include sight seeing, and on any given day you might view eagles, ospreys, sea ducks, sea lions, seals, whales, crabs, deer, and other wildlife. The uniqueness of the Kitsap Peninsula and surrounding waters is truly a special place!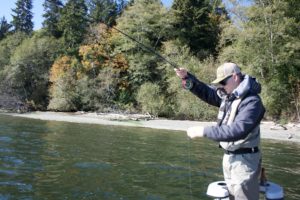 Come enjoy a day cruising the waters of Hood Canal or Puget Sound in search of these magnificent fish.
Beyond Fly Fishing
A day with Fjord Fly Fishing is much more than just fishing and catching fish – however that is the focus! Clients will experience breath taking views of Puget Sound, Hood Canal and the Olympic Mountains. Chad will teach you about the life cycle of Sea-Run Cutthroat, where they live, what they eat, and their habits. Wildlife is abundant and Chad knows the species, migration rituals, and details regarding certain species. The goal is for you to learn a lot about the surrounding area, and wildlife that inhabit it. -Oh, and catch fish!