Come Experience Fly Fishing on Hood Canal and Puget Sound with us!
Experience salt water fly fishing on Hood Canal with us!  Experienced anglers or brand new to the sport, we specialize in catering to anglers skill levels and helping you to learn this unique saltwater fishery on Hood Canal and Puget Sound in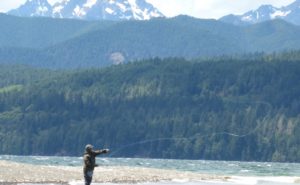 Washington State.  There truly isn't a more beautiful experience in Washington State, where anglers get to fish in a saltwater environment for a wild sea trout at the base of the Olympic Mountain range.
Learn to Fly Fish With Us! –  Saltwater fly fishing on Hood Canal and Puget Sound offers a unique experience for anglers brand new to the sport of fly fishing.  In this open water environment, it is a great learning platform for anglers looking to hone their casting and presentation skills to aggressive Sea-Run Cutthroat.  Anglers looking to pursue the sport of fly fishing will find this experience as a great way to increase their knowledge of a unique world class saltwater fishery.
Light tackle fishing – this technique consists of using light tackle spinning gear (2-6 pd. test rated rods, and small thin diameter hooks for low impact on the fish) and light lures to pursue sea run cutthroat.  This is a great option to combine with fly fishing for anglers new to the sport of fly fishing or kids who are just starting out fishing.  Light tackle trips are catch and release, and the same low impact handling of the fish is applied using light tackle as it is with our fly fishing trips.
A Guided Boat Adventure Includes
Guided fishing by boat – fish multiple beaches during the day moving quickly to productive beaches giving clients the best overall experience.  Guide trips are for a maximum of two anglers plus the guide. The exception may be to add a 3rd small child.
Wildlife viewing, scenic mountain views, marine entomology
Sage fly rods and reels set up specifically for saltwater cutthroat fishing. Bring your own if you would like.  Light tackle rods/reels/tackle provided.
Custom tied flies, leaders, tippet
Lunch (includes wrap, chips, granola bar and light dessert). Please bring any food or diet specific items you would like. There is a ice chest on board to store your food/drinks in
Departure times are flexible based on customer needs, tides and weather.  However, for the best customer experience, trips will be scheduled around the best tides for the day.
Cost for a Guided Adventure
Full Day Trip – The two angler full day trip is our standard adventure -$485. It is based around the best part of a 6 hour tide cycle, and gives anglers a great day on the water with up to 7 hours fishing time.  Includes lunch, gear, flies, tippet and leaders and/or light tackle gear if preferred.
Single Angler Trip –  One angler only – up to 7 hours fishing time- $385. Perfect for that angler who would like the boat to themselves, or just couldn't find a fishing friend in time. Includes lunch, gear, flies, tippet and leaders/light tackle gear if preferred.
All prices subject to 8.7% WA sales tax, not included in price.
What will you need to bring for a guided adventure?
Fishing License. Please go to this link Washington State Fishing License. You will need a Washington State saltwater fishing license.
Weather – dress accordingly for the weather. Keep in mind that we will be running by water to our fishing destination. Our boat does not have a windshield, so you will want warm clothes as you can always take layers off.
Rain jacket and pants.  Our boat moves around 25-30 mph so wind/rain jackets help to protect customers on cooler days.  Layering with long underwear is recommended in colder months.
Gloves – particularly in colder weather months.  Wool or fleece fingerless gloves are recommended for casting.
Waders- recommended for cooler months.  Waders give anglers options to beach fish in addition to fishing out of the boat
Sun glasses, sun screen
Camera or phone

Where will you meet your guide?
It all depends where you are traveling from, and we can cater this to your needs and timelines.  We have multiple areas we launch and depart from on the Kitsap Peninsula  Most meeting points are within 45 minutes of the Bainbridge Island or Kingston Ferry terminals, which makes for a very convenient fly fishing excursion if you are coming from the Seattle area. Call Chad at 509-591-2029 or email chad@fjordflyfishing.com and I will be happy to answer your questions.
Book Your Trip With Us:
The easiest way to book your date is to email chad@fjordflyfishing.com or call 509-591-2029 to reserve your date. Once your date is confirmed, your deposit invoice will be emailed to you using a Square account, and you can simply pay it with a credit card to hold the date.  The remaining half of the trip is due after conclusion of the trip, and can be paid with the credit card on file you paid the deposit with or cash/check.
Deposit and Cancellation Policy:
At the time of reservation, a 50% Deposit is required to hold your date(s). After the conclusion of the trip, the remaining 50% is due and is payable by the credit card on file or by cash/check.  Trips cancelled by the customer less than 24 hours from the start time of the trip, or failure to show, will forfeit any deposits made. In the event your fishing adventure is cancelled by the outfitter due to inclement weather conditions, your deposits will be held by Fjord Fly Fishing for use towards purchases or adventures later in the season. In the event alternative adventures are proposed by the outfitter and accepted by the customer, additional charges may apply.  If you are simply unable to return and must have a full refund for deposits made, we are happy to send you a check for the full deposit amount minus a 10% of the deposit processing fee.
Call for Reservations 509-591-2029