November 4th – Oh wow, I can't say I have done the best job of updating my fishing reports the past few months.  Things seem to have gotten away from me with lots of time on the water, and good fishing.  Flinging a fly for Sea-Runs is still good, and will continue to be good right into the winter if you can find those days in between weather systems to fish.  I continue to book fly fishing trips on Hood Canal throughout the winter, but the best plan to book a day is to have me put you on my last minute list.  What this means is that I have a list of interested anglers looking to book a day when the weather is right, and are willing and able to go any day of the week.  With our fall/winter weather strongly upon us, this allows anglers to get a calmer day in between weather fronts and makes for the best experience.  If you are interested in being added to this list, please email chad@fjordflyfishing.com.  Thanks
August 20th – Just released in the September/October issue of Northwest Fly Fishing magazine (matchthehatch.com) is a feature article I put together on Hood Canal Cutthroat – check it out if you get a minute.  It is in the current magazine available on the shelf, and should be updated online within a few days at matchthehatch.com.
Fishing has really started picking up lately with some cooling air temperatures, which have in turn cooled the water temperatures.  Prime time for Sea-Run Cutthroat in my opinion is September through December on Hood Canal in particular.  Another nice advantage of fishing the fall throughout Hood Canal is the opportunity to catch a coho salmon incidentally.  Although we aren't targeting these fish, we do catch and release them if hooked.   In the fall, fish are active, waters temps. have really cooled down and fishing is consistent.  If you are looking to get a trip on the books this fall now would be a good time give me a ring as my availability is starting to fill up.
August 8th – Smokey air conditions due to the Canadian wildfires are putting a haze in the air around Western Washington these days.  Hopefully they get those in control sooner than later.   Really warm air temps. and bright conditions have still kept the fish deep throughout Hood Canal recently.  Some fish have been hooked in as much as 30-40 feet of water.  This is where those full sinking lines in type 5 or 6 will really give you an advantage and allow you to get down quickly and reach the fish.
July 21st – The algae bloom is back on Hood Canal this year bringing bioluminescent water color.  What beautiful time of the year to be on the water right now.  We have had a mix of resident coho salmon and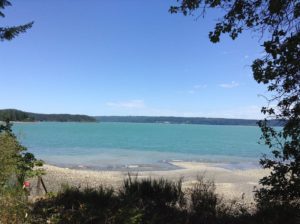 cutthroat.  Herring have been schooling in big bait balls lately and at times we have had fish chasing them.
These herring, in the 3-4 inch size provide a big meal cutthroat trout and resident coho salmon.    Definitely still a deep water game with full sinking lines being our go to line.  Things are starting to book already for prime time fishing during September/October and November, so if you are thinking about booking a trip you may consider getting it on the books soon.
June 27th – Its been awhile since my last update.  Fish deep has been the name of the game along still as the summer time pattern progresses.  It is pretty typical to fish deeper this time of year, and the use of a full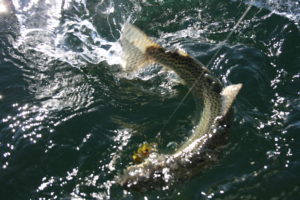 sinking or tapered sinking line is really critical to achieving success and hook ups.  The weather has been great lately with more calm days than windy ones as the norm.  Its nice to see these great days on the water, especially after the long, wet winter we had here on Hood Canal.
May 9th,  – Beautiful weather today on Hood Canal!  It appears we are finally in a cycle of springtime weather and certainly enjoying less wind and warmer air temperatures on the water.  We had air temps pushing 70 degrees today at the peak and bright sunny conditions which can sometimes put the fish deeper, and that was certainly the
case today.  Intermediate lines were important, and allowing them to sink upwards of 10 plus seconds allows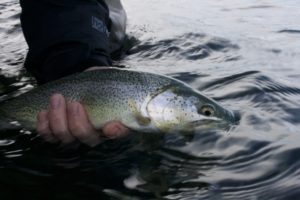 them to gain just enough depth in the water column where fish will have more security and confidence eating your fly.  It was kind of a weird day on the water for fish sizes and numbers.  We had lots of 6-8 inch fish, and then a couple in the high teens.  We were totally missing fish in the 10-14 inch age class, which were very numerous just a few days prior.  Shrimp patterns, chum fry and sand lance patterns all took fish today.  Sea-Run Cutthroat are starting to key in on other food sources now that chum fry are becoming less prevalent.
May 19th – Once again great weather with temperatures in the 70 degree range.  Fish were deeper in the water column again, and letting that intermediate or sinking line get down 3-5 feet will generate more hook ups.  Definitely some nice fish in the mix today, and also a wider range of age class sizes from a few days prior.  We are starting to see some of the algae growth happen in Hood Canal.  These consist of large weeds that grow up from the bottom.  Perch, chubs and sea-run cutthroat all use these as shelter and cover from predators.  If you are fishing from a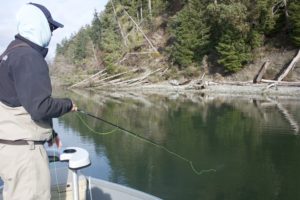 boat, casting and retrieving over the top of these weeds can be successful, as fish will shoot up out of them to take your fly.  On lower tides, try fishing outside the weeds and let your fly sink down into the water column.  The eagles were active again today, and are well occupied with tending to their young in their nests.  Baitfish patterns, including one I created called Gillespie's chum fry delight worked well – pictures to come on that one soon.
May 28th – Fish those shadows! With our bright weather we have been having, our wild sea run cutthroat have been using the shadows from the towering trees above them to their advantage.  Just like river trout, they will use everything to their advantage to hide from predators and also ambush prey.  We found some nice fish today on our first beach we fished, particularly using those shading areas, and also areas with steep drop offs that they could escape into.  With the bright weather we have move into using faster sinking lines.  The Scientific Anglers Sonar Titan – Type 5/Type3/Intermediate works well and get deeper into the water column fairly quick.  Baitfish patterns with a quick strip worked well today, particularly on the pause.